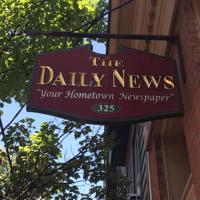 Tyrone Veterinary among victims of dog adoption scam | News
Recently, Tyrone Veterinary Associates was unwittingly involved in a dog adoption scam with several residents and two local animal rescue organizations.
Since August, Tyrone Veterinary Associates has been receiving phone calls from people inquiring about the welfare of a dog they recently adopted. According to the callers, the alleged breeder dropped the dog off at the veterinary clinic so that he could be vaccinated. Other times the breeder claims he had a car accident along the way and the dog had to be taken to the vet for treatment. Either way, it always ends the same way: there's no dog and potential owners lose hundreds of dollars.
The victims are usually people who have expressed an interest in adopting a purebred dog. They are contacted via Facebook by someone posing as someone the victim knows. They tell the victim that they know where they can buy a purebred dog for much less than it would normally cost, which can be up to $2,000.
The victim is then put in contact with someone falsely claiming to be affiliated with Puppies and Dogs Rehoming in Pa. or Tyrone Pet Services, both of which are legitimate organizations. Once payment is made, the "breeder" promises to deliver the dog to the victim, only to inform them that they have been taken to Tyrone Veterinary Associates for some reason. Shortly after, the victim learns that she has been had.
"The last phone call we received, the person was informed that the puppy had been in a car accident and was being treated in our office," said Shaye Sprankle, veterinary technician at Tyrone Veterinary Associates. "But at the time, our doctor was on vacation, so it was not possible."
Sprankle said a woman had traveled all the way from Roaring Spring to pick up her dog, only to find the trip had been lost.
"Some people have been scammed out of $900 or more," Sprankle said. "They believe they get a deal on purebred puppies like yorkies, German shepherds, beagles, huskies or French bulldogs."
After posting a public service announcement on the Tyrone Veterinary Associate Facebook page, Sprankle contacted Puppies and Dogs Rehoming in Pa. and Tyrone Pet Services to inform them of the situation.
"I wanted them to know because these are real organizations," she said. "I don't want people to think the job they're trying to do is a scam."
Fortunately, there are several ways to detect if an offer is in fact a pet adoption scam.
There is no means of contact other than Facebook or if there is a phone number it is not local.
Payment methods cannot be tracked.
The same purebred dogs that normally cost $2,000 or more from a reputable breeder are sold for $500. Unfortunately, if it sounds too good to be true, it usually is.
The seller avoids face-to-face meetings. Besides being wary, it's best to interact with an animal before deciding to adopt it, as this allows an individual to see if they will get along with their new pet.
Sprankle said his office has received calls from at least 10 or more people who profited from the scam, the last of which was last week.
"I hope that by bringing attention to this we can help put a stop to it," she said. "It not only hurts our office, it hurts real organizations that want to help and reintegrate dogs, and it hurts the community as a whole."