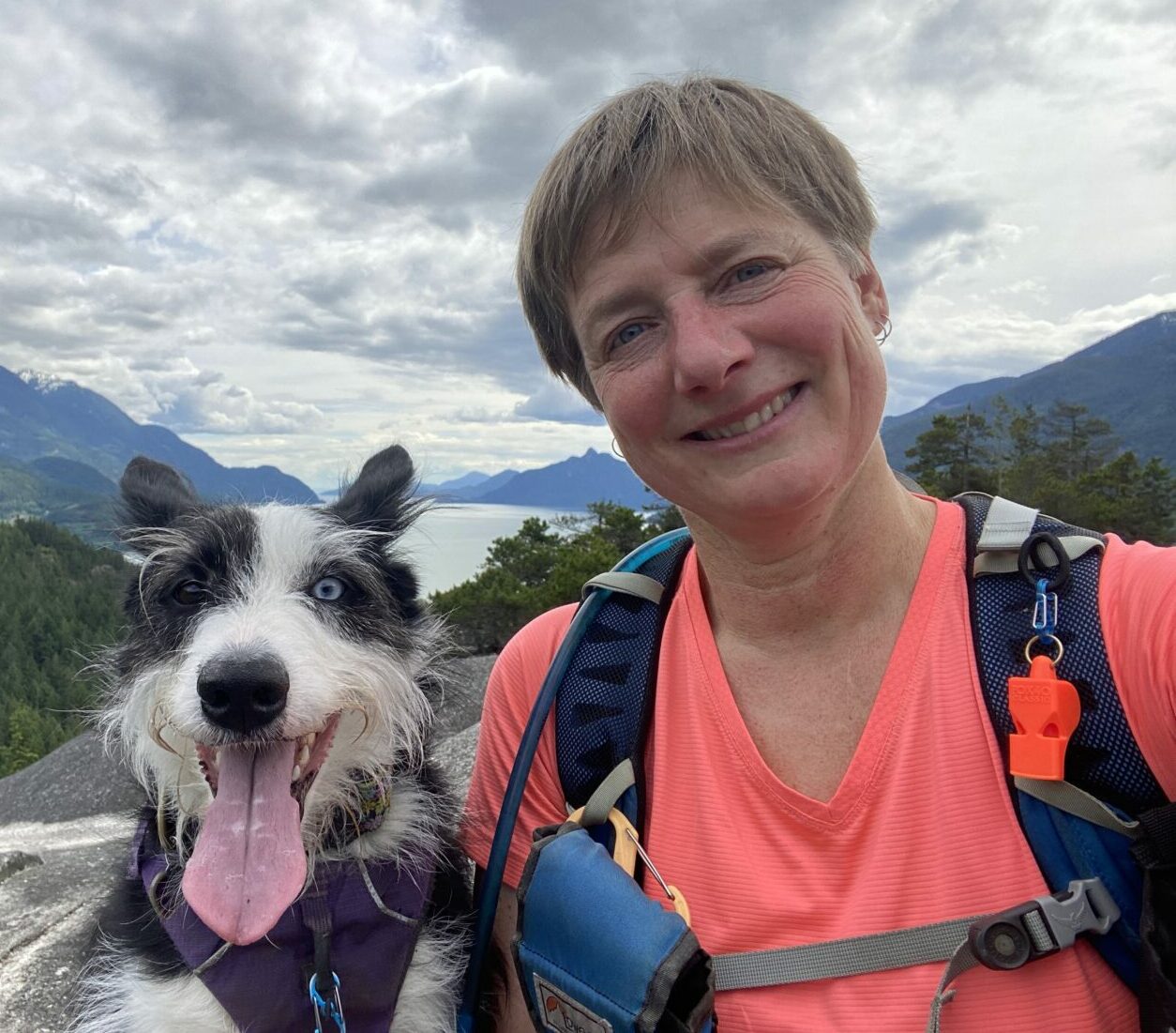 Powell River new home for AnimalKind accredited cruelty-free dog trainer
When dog trainer Maren Bruun and her husband decided to leave their town of Squamish, they didn't initially know where they would be moving. However, a weekend with friends in Powell River was enough for them to fall in love with the town and decide to settle there for their new life.
The move didn't mean retirement for Bruun, an experienced dog trainer recognized by the BC SPCA AnimalKind program in 2019 and owner of Paw in Hand. On the contrary, her love of training dogs, as well as her experience with different types of breeds and behaviors meant that she certainly wanted to continue to help caretakers and their dogs in her new community. Bruun says, "I moved to Powell River in August 2021 with my husband and three dogs. I took the time to settle into our new home and get to know the community. It was very important to me to make sure that my three dogs (two blind, deaf and anxious seniors and an energetic youngster) did well with the transition. With the new calendar year, we were all settled and it was time to start helping other dogs and their loved ones again. It was a natural next step.
With the arrival of Paw in Hand, the first BC SPCA AnimalKind accredited training company in Powell River, which Nicole Fenwick, head of research and standards for the BC SPCA, says is having a positive effect on animal welfare local dogs. "AnimalKind-accredited companies like Paw in Hand use evidence-based human training that strengthens the animal-human bond, instead of outdated techniques that can harm dogs," says Fenwick.
The BC SPCA created the AnimalKind Accreditation Program to help dog sitters find dog trainers who use science-based training methods and are committed to animal welfare. Brunn says, "The dog training industry is constantly changing and there are countless different certifications a dog trainer can obtain. AnimalKind has some of the highest standards and the BC SPCA is an organization people trust. It is important for me to promote benevolent training methods to the public.
Brunn explains his approach to training as a partnership between dog and guardian; she says, "side by side and paw in hand," referring to the name of her business. Bruun enjoys explaining dog behavior to her human clients in a way that they understand and helps them identify what is needed to promote positive change. "With Paw in Hand, local dog sitters can be confident that their training needs will be compassionately met from a scientific and humane perspective," says Fenwick.
The impact of Bruun's work is starting to pay off, as she is already helping dogs in the community. "I spent time at the local BC SPCA branch and helped the staff with some of the dogs up for adoption. Lily had some difficult behaviors and had been in care for a while. She has made good progress getting up for adoption and just found the perfect home this week. I hope to see her in the community! Bruun says.
The BC SPCA launched the first set of AnimalKind standards – for wildlife and rodent control businesses – in 2018. Through a partnership with the UBC Animal Welfare Program, the BC SPCA, the Vancouver Foundation and the Peter Wall Institute for Advanced Studies provided funding to establish the program. AnimalKind Standards for Dog Training – the second set of standards developed, launched in January 2019.
Learn more about AnimalKind accreditation, what to look for in a trainer, or find a trainer near you at animalkind.ca.