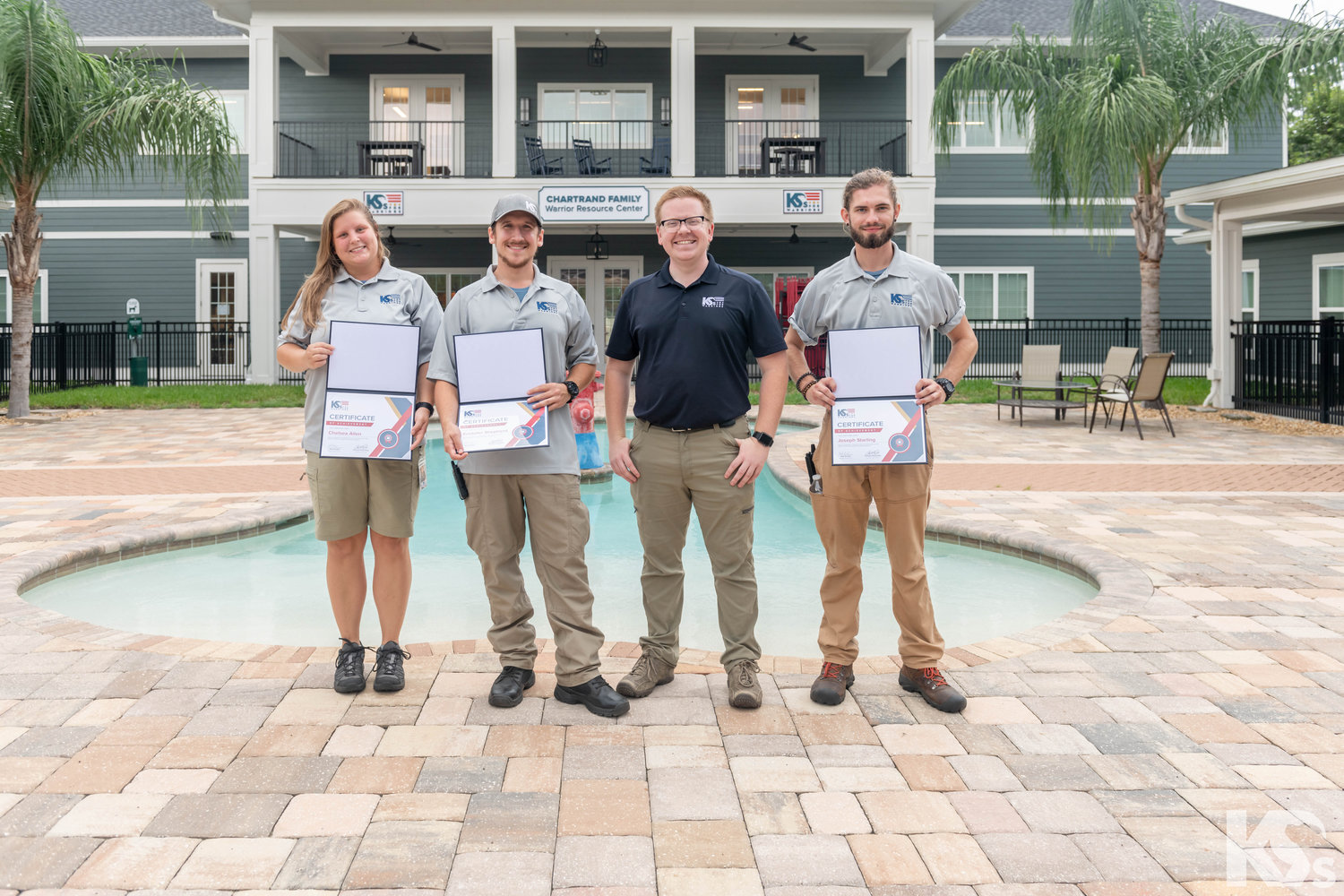 K9s For Warriors Recognizes Graduates Of First Apprentice Dog Trainer Program
On Tuesday, July 27, K9s For Warriors honored three graduates of its inaugural apprentice dog trainer program. The five-month class (which drew more than 500 applicants) was conducted at the organization's Gold Family Campus (Alachua) in a strategic effort to develop a pipeline of highly skilled service dog trainers.
A critical part of the apprenticeship program is how it will contribute to the larger mission of K9s For Warriors, as the largest provider of trained service dogs for military veterans suffering from PTSD and other trauma related to the army.
The number of veterans matched with a service dog through the organization will soon be more than ever. K9s For Warriors will open a mega kennel in Northeast Florida next week that can accommodate more than 150 service dogs in training, and in September will officially open the Petco Love K9 Center in San Antonio, which will rescue larger dogs at be trained as service dogs.
"It's not like we can just flip a switch and make more copies of well-trained service dogs," said Paul Mundell, program director at K9s For Warriors. "The skills required of both dog and trainer are unique. This program will allow us to ensure quality control and consistency regardless of location.
The inaugural class of Apprentice Trainers will spend the next month or two working under the guidance of a Mentor Trainer at K9s For Warriors National Headquarters. After this period and after familiarizing themselves with their new responsibilities and environment, they will officially move into a full-time trainer role.
With the intention of using the apprenticeship program as the hiring standard for potential future trainers, K9s For Warriors will welcome six people to participate in a second class of apprentice trainers this fall.
Developed over the past few years, the apprenticeship program curriculum aims to prepare its graduates for a seamless transition into full-time dog trainers. Immersive training focuses on things like acceptable training methods and dog learning theory, as well as dog behavior and modification.
Apprentices are assessed through research, quizzes and written exams, three 'checkpoint' skill assessments and an ability to read dog body language. Apprentices are responsible for forming a "chain" of several dogs specifically assigned to them.
For more information on the program, visit www.k9sforwarriors.org/blog/k9s-trainer-apprentice-program